IDEAS

Make a list of the opportunities you have to serve the 3-5 people in your life you are praying for. Which act of service will you do this week? How can you fit that act into your schedule? What do you need to eliminate from your life in order to serve others in love?
Here are some ways you can eat with people who do not know God:
Give the person a ride
Volunteer to take care of a tangible need (cook a meal, babysit, mow the lawn, etc.)
Make their birthday special.
Send a handwritten card.
Join a community service project with someone who is journeying toward God.
Offer to pray.
Keep them company.
Give or lend something.
Don't miss the big needs – Births, deaths, trials, sickness, and more.
Ways to allow others to reciprocate and in turn serve you
Accept invitations (dinner, parties, etc.) and offers of help
Share your needs with your neighbors openly.
Be generous with your gratitude.
Recommend Reading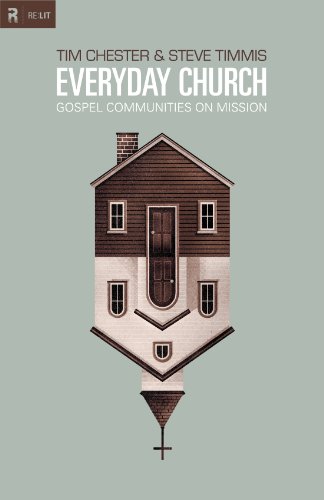 EVERYDAY CHURCH: GOSPEL COMMUNITIES ON MISSION
By Tim Chester and Steve Timmis
We live in an increasingly post-Christian culture as fewer people ever attend church. What used to work doesn't work anymore and we need to adapt. Helping us to see the way forward, Everyday Church offers practical ideas and personal stories for engaging with our culture. Find out how to effectively reach people in the context of everyday life and take hold of the opportunity to develop missional communities focused on Jesus.
THE WORLD IS NOT OURS TO SAVE: FINDING THE FREEDOM TO DO GOOD
By Tyler Wigg-Stevenson
We want to save the world―and we have a dizzying array of worthy causes to pursue. But passionate enthusiasm can quickly give way to disillusionment, compassion fatigue, or empty slacktivism―and liking Facebook pages only goes so far. Veteran activist Tyler Wigg-Stevenson identi.es the practical and spiritual pitfalls that threaten much of today's cause-driven Christianity. He casts an alternate vision for doing good based on the liberating truth that only God can save the world. Wigg-Stevenson's own pilgrimage from causes to calling shows how to ground an enduring, kingdom-oriented activism in the stillness of vocation rather than in the anxiety of the world's brokenness. The world is not ours to save. And that's okay. Discover why.